Shipping container architecture continues to be a growing phenomenon. From homes,  offices, restaurants, event displays and more, shipping containers can be repurposed into any type of structure. If you're considering building with shipping containers, you need to know the fundamentals, advantages, and disadvantages to decide if a container structure is the right choice for you.
Shipping Container 101
The metal shipping container was developed about 65 years ago. Containers come in various sizes, but the most popular sizes are:
20 footer – dimensions are 20' x 8' x 8', which equals 160 square feet
40 footer – dimensions are 40' x 8' x 8', which equals 320 square feet (There are also high cube versions of these sizes that are 9 feet tall)
If you're researching container structures, you've probably seen photos of the mass amounts of containers sitting on docks and ports around the world. This surplus of sea containers is due to the large amounts of time, labor costs and fuel needed to ship an empty one back to its origin. Melting the containers down to steel is also not typically considered as it requires a large amount of energy, around 8000 kW, while the repurposing of a container uses about 5% of that.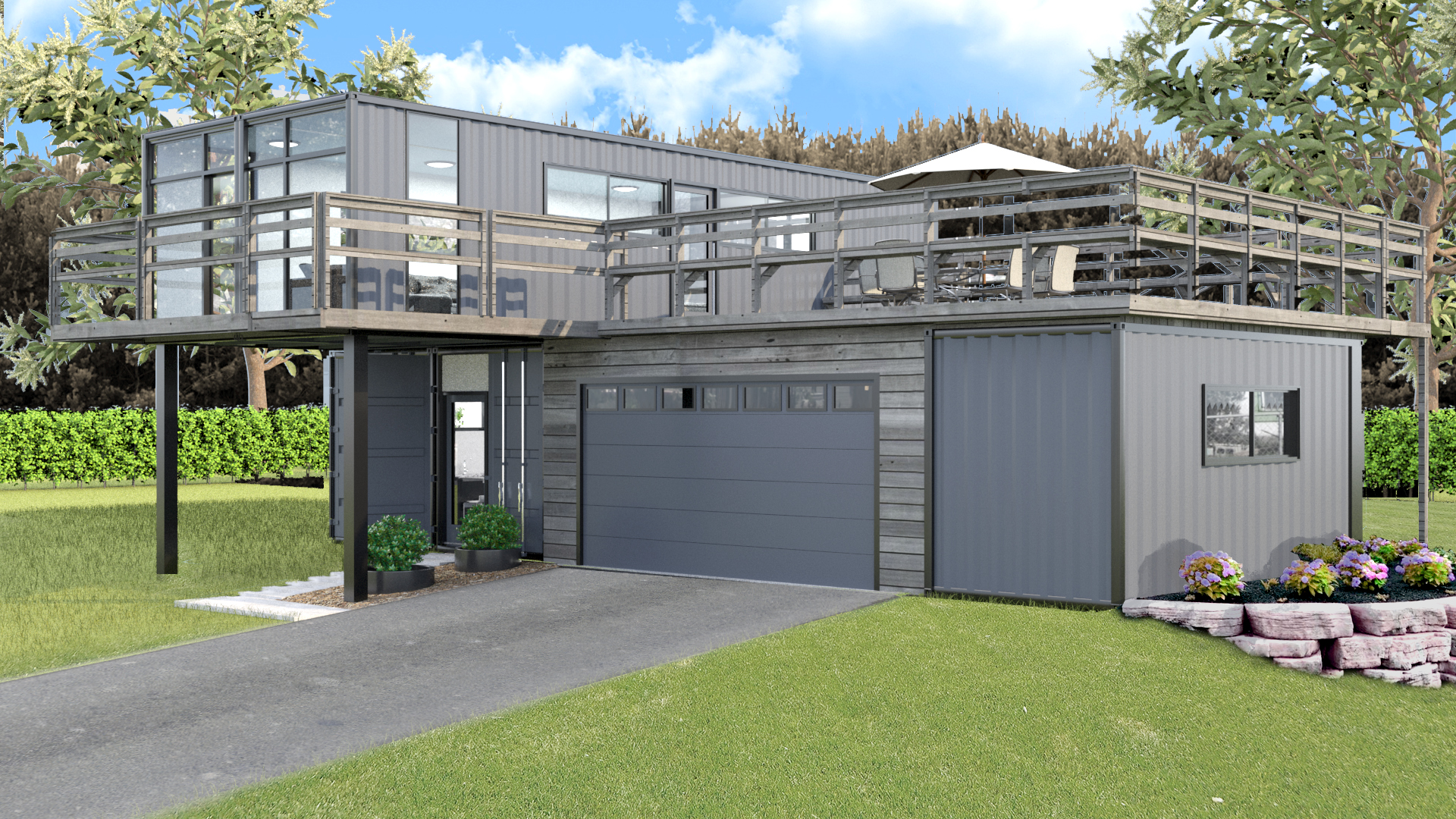 Pros and Cons of Building with Shipping Containers
There are a variety of reasons why architects and builders want to utilize containers for their projects, but it may not be the right fit for every job. Here are the main pros of building with shipping containers.
Strength & Durability – A container's purpose is to carry heavy loads through any environment and remain intact with its goods undamaged and dry inside. Its purpose as a building is similar. It's designed to last and to fully protect its occupants better than traditional builds. They are also earthquake and hurricane proof.
The containers are made from 14 gauge steel and have the built-in support to handle many layers stacked on them as well as the ability to handle being hoisted. A stand-alone container can handle 100 miles per hour winds. When securely anchored, it can withstand winds up to 175 miles per hour.
Speed – Container buildings can be built much faster than traditional ones. Site prep work can occur at the same time as the containers are being modified at a facility, which can cut months off of a new build.
Affordability – A container build is often said to be way less expensive than a traditional build. This is true in some cases, but containers that are heavily modified can end up costing just as much or even more. The cost is extremely dependent on your plan and building needs. This being said, you're investing a structure that will hold up against any element and be around for years to come without much maintenance.
Creative Freedom – Containers can be stacked vertically and put together horizontally to create a variety of floor plans. The interior is a blank canvas that can be designed any way you feel. Using containers also allows for future expansion and add-ons of more containers.
The cons…. While there are not many, here are a few things you need to be aware of.
Permits and codes – Since container buildings are still relatively new to many municipalities, the proper research will need to be done to make sure you can legally build a container home or commercial building. Check with your local building code enforcement office before committing to a project.
Not 100% eco-friendly – In most cases, to safely build a new structure, old containers are not used. Many of these containers that are sitting decommissioned at ports have damage and wear from years of use. To ensure the structural integrity of your build, we search out the highest quality containers we can find in the area.
This brings us to a final point, modifying shipping containers is NOT easy. While there are hundreds of examples of DIY container homes online, we strongly suggest working with an experienced builder. As long as you are working with a knowledgeable container builder, you won't face the headaches that come from safety and code issues. (Watch one of our container homes being built in Wisconsin on HGTV's Container Homes show, now streaming on Hulu!)
Ready to Build?
Building a new structure using shipping containers may not be everyone's dream, but if it is yours, we can help. From residential to commercial buildings, we'll work with you to create a unique, long-lasting structure quickly. Contact us today and tell us about your project to get a free quote!