Mobile Offices Built Using Shipping Containers
Mobile offices are essential for many industries that require remote work spaces. Whether you are looking for supplemental office space or an on-site support office. Shipping containers are the ideal structural solution.
MODS Container Offices
We often get inquiries from construction companies who are looking to replace their simple on-site trailers with something sturdier. Other mobile office designs/temporary structures we have worked on include guard booths, military site offices and mobile classrooms. Container offices are not only long lasting and simple to relocate, but easily configurable.
Plug and Play Office Space
You can include similar features as you would have with a permanent office space. This includes windows, overhead lighting, secure doors, multiple electrical outlets, security features, restrooms and more! One of the best parts of our mobile shipping container office is that when the office arrives onsite, the setup is simple. All that needs to be done is to connect the power (and the water hookups if applicable) and your office space is all set for use.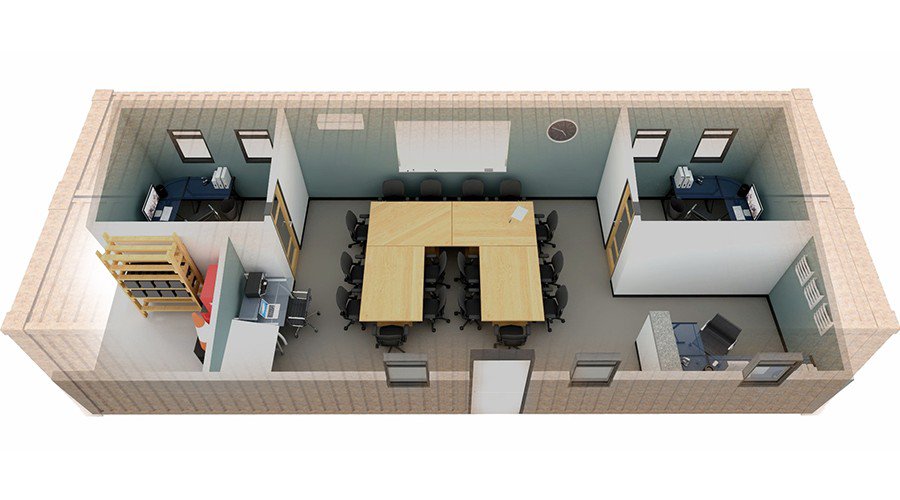 Customized to Your Needs
Multiple containers can be used to create a larger office space. Your design can include individual offices as well as open meeting room space as pictured above.
MODS International can create any mobile building configuration you need. Applications include everything from construction offices to temporary classrooms. We work with you to come up with a design that meets your needs.
Contact us to speak with a MODS rep and receive a free quote!