MODS Delivers Winning Press Box Project
Last summer we had a wonderful opportunity to help the Columbus School District create a modern and sturdy press box for the Cardinals high school football team. In what almost amounts to a winning season all by itself, Columbus High School now has an all-star press box to call future games.
High School Football Coach Scott Hilber came to MODS because their existing press box was dangerous and ready to collapse. The MODS design team assembled and quickly created a design to fit the school's needs.
Custom Press Box Solution:
In the end, MODS was able to provide a stunning structure that all of Columbus can be proud of. The finished project is visually pleasing with beautiful colors matching the theme of Columbus High School.
From start to finish, the project took just a week, allowing the Cardinals to show off their new facility just in time for kick off! Go Cardinals!
Construction Overview: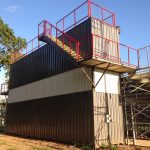 The Press Box is not just pretty, it's strong. The project consist of two 8′ x 8′ x 40′ sea containers in a stacked configuration. The base container required a "patch" extension to match the height of the existing grand stand bleachers.
The base of the new press box includes secure storage behind a 14 gauge steel wall. These steel side walls are 2mm thick which is strong enough to stop a speeding bullet. The only way inside would be with a oxygen cutting torch. The top section has security glass to prevent potential vandalism or break ins.
Topping It Off:
The red hand rail and upper level steps add the finishing touch and afford the user a safe place for TV cameras and media photographers to catch the action from a birds eye view. Custom electrical and audio is wired securely within the hardened structure. Final paint and roof treatment delivers years of maintenance free use.
Call MODS for your next project:
If MODS International can do this with an ordinary press box renovation, imagine what they can do for your next custom construction project. Contact Us for a FREE Quote