Are you interested in living in a tiny house?  Before you begin the downsizing process, check out one of these amazing tiny house vacation rentals!
US Tiny House Vacation Rentals
Caravan
Caravan is the first Tiny House Hotel in the United States.  It's located in the heart of the Alberta Arts District in Portland, Oregon.  Visitors are able to experience what it's like to stay in a beautiful, custom-built tiny house.
Fireside Resort
Fireside Resort in Jackson Hole, Wyoming features gorgeous, rustic 240 square foot cabins.  It's located just minutes from the slopes and includes full kitchen, fireplace, and a furnished deck.  They are also pet friendly!
Charming Shotgun Cottage Uptown
This 400 square foot tiny house is located on a quiet street in New Orleans, Louisiana.  The house boasts a private backyard, Jacuzzi tub, and is only ten minutes from the French Quarter.
Silo Studio Cottage 
This charming little cottage is located in Tyringham, Massachusetts.  It's situated on four acres of land that includes gardens, a lily pond, streams, and a two acre woods with walking path.
Seattle Mini House
This 285 square foot tiny house is located just 6.5 miles from the heart of downtown Seattle.  It has its own private back patio and yard space.  The house has been featured in the New York Times, various magazines, blogs, and television shows.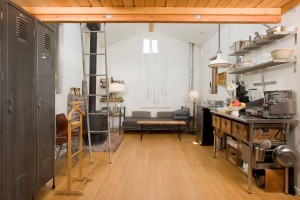 Pirates of the Caribbean Getaway
This tropical themed house in Topanga Canyon, California is located right in the heart of the canyon.  There are waterfalls and ponds around the property.  Only a 15 minute drive to Santa Monica and 30 minutes to LAX airport.
Bayside Bungalow
Enjoy a beachfront getaway while trying out tiny living.  This tiny house is hand built and located in a rural area just minutes from downtown Olympia.
Tiny Texas House
This Victorian style tiny house is located in Canyon Lake, Texas.  It features vintage stained glass windows, antique woods and trim.  There is also a patio with gas grille and hot tub.
www.homeaway.com/vacation-rental/p261589vb
Drifting Cottage
Drifting Cottage is located in Savannah, Georgia in the Baldwin Park Historic District.  There is a private patio surrounded by lush landscaping.  There are two full beds in the loft, so it can easily accommodate four guests.
www.homeaway.com/vacation-rental/p398727vb
Portland Cottage
Just a few blocks from the historic Mississippi district in Portland, Oregon, this tiny house offers full amenities and ultimate comfort.  There's a full kitchenette, gas fireplace, and even a small laundry room.
www.homeaway.com/vacation-rental/p425714vb
Wood Cliff Cabin
Wood Cliff Cabin is a hand-built, secluded four-season retreat.  It's perched on a cliff, 80 feet above a mountain stream.  There is a full equipped kitchen, deck, and an adjacent bath house with a sauna.
www.homeaway.com/vacation-rental/p306623vb
Parisian Victorian Cottage
This tiny Colorado Springs cottage is the perfect place for a honeymoon or romantic getaway.  It's decorated in soft whites, creams, and pinks with Parisian Apartment style decor.  There is also a beautiful garden and patio.
www.homeaway.com/vacation-rental/p252548
International Tiny House Vacation Rentals
Endémico Cabin Hotels
These tiny cabins are staggered among boulders on a secluded hill in the Valle de Guadalupe region of Baja California.  Each cabin has an unobstructed view of the valley as well as a private wooden terrace.  Even though the location is remote, there is an onsite pool, restaurant, and bar.
Aroma(n)tica Tree House in Monferrato
You can experience tree house living with panoramic views, a garden, and a swimming pool if you are looking for a place to stay in Monferrato, Italy.  The tree house is located behind a mansion that you can have access to for amenities as well as a wine cellar.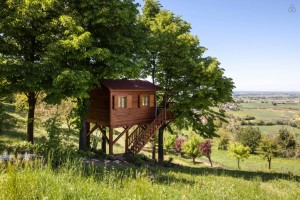 Cave house La Chumbera, Granada
The Cave House is located in the scenic, traditional town of Monachil, Spain, at the foot of the Sierra Nevada Mountain range.  The property has two fully equipped caves with private terraces for breathtaking views overlooking the town.
Container Forty-Five
Build from a 45 foot shipping container, Container Forty-Five is a sustainable 340 square foot home with amazing views across the Cornish countryside.  It's located in Penzance, United Kingdom.
tinyhousevacations.com/property/container-forty-five
Hebridean Earth House
This secluded, earth bermed cottage in Scotland has the most extraordinary views from its large lounge windows.  It's also just a mile from the beach.
tinyhousevacations.com/property/hebridean-earth-house
Hotel Montego Bay Beach Village
The Hotel Montego Bay Beach Village is located in Morjim, India.  It's on a beautiful white sand beach and guest accommodations include log cabins, beach villas, and a larger guest house.
Camping Zeeburg
Besides tents and camper placements, Camping Zeeburg in Amsterdamn has comfy eco-cabins and colorful wagonettes to rent.  There is a nearby swimming pool and a restaurant onsite.  Travelers from all over the world will enjoy the open and friendly atmosphere.
---
If you are interested in building a tiny house for your main residence or for a vacation home contact MODS International.